The 23rd Indotaisei Voluntary Club Education Program to SDN KALIHURIP I and SDN KALIHURIP II Cikampek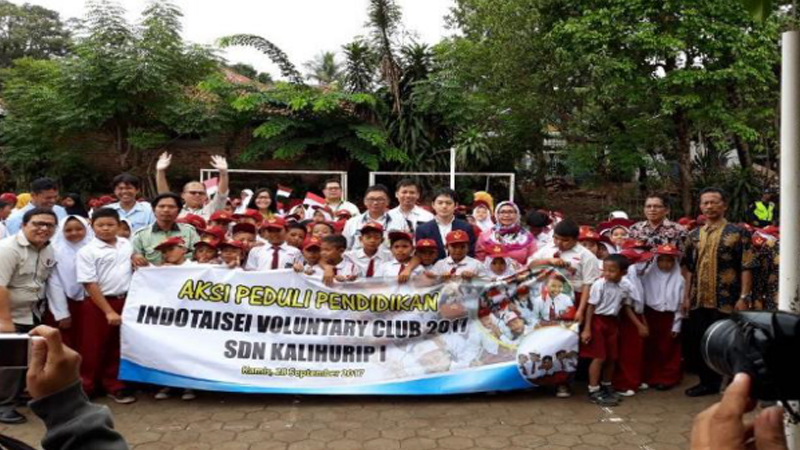 Indotaisei Voluntary Club continues a tradition of doing charity activities by contributing such as; backpack, sports equipment (Volley Ball, Soccer Ball, Basket Ball, and Badminton racket), and also sharing knowledge to elementary school of SDN Kalihurip I and Kalihurip II Cikampek on September 28 , 2107.
The students of SDN Kalihurip I and II were happy when the Indotaisei Voluntary Club came to visit, and they welcomed the Indotaisei Voluntary Club by performing a traditional dance and a traditional music.
The members of Indotaisei Voluntary Club are the companies within Indotaisei area, such as the following :
PT. Asahimas Flat Glass, Tbk
PT. Aica Indonesia
PT. KITM Indonesia Textile Mills
PT. G-Tekt Indonesia Manufacturing
PT. Gemala Kempa Daya
PT. Honda Precision Parts Manufacturing
PT. Indonesia Koito
PT. Indonesia Nippon Steel Pipe
PT. Indotaisei Indah Development
PT. Kalbe Morinaga Indonesia
PT. Kawai Indonesia Plant 2
PT. Kawai Indonesia Pant 3
PT. MCNS Polyurethane Indonesia
PT. Molten Aluminum Producer Indonesia
PT. Koyama Casting Indonesia
PT. Sanghiang Perkasa
PT. Sumi Rubber Indonesia
PT. Techno Wood Indonesia
PT. Yamatogomu Indonesia
PT. Tritunggal Multi Chemicals
PT. Nippon Konpo Indonesia
According to Mr. Rikuji Yamanaka, Operation Manager of PT. Indotaisei and Mr. Kensuke Murakami, Director of PT. Indotaisei explained that this activity is a routine activity, which is held twice a year, by Indotaisei Voluntary Club since 2001.
Besides contributing backpacks and sports equipment, the member also has introduced the concept of "Sharing Knowledge", where each of the representative of the participating companies acts as teachers in each classroom. One of the methods used is playing and /or role playing, games in the classroom which is involves the students.
The vision and mission of this activity is to help the students in SDN Kalihurip I and II to be a high achiever and successful children in the future.